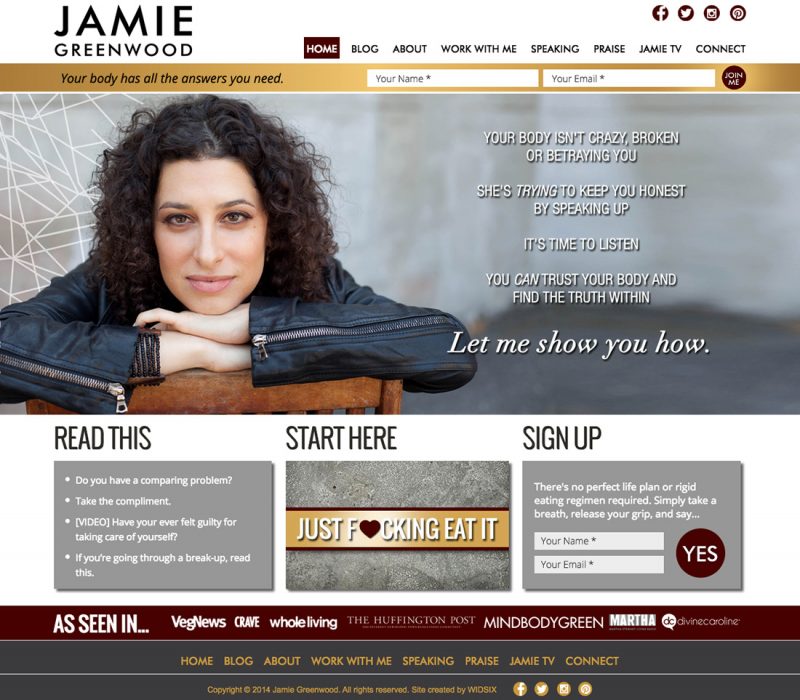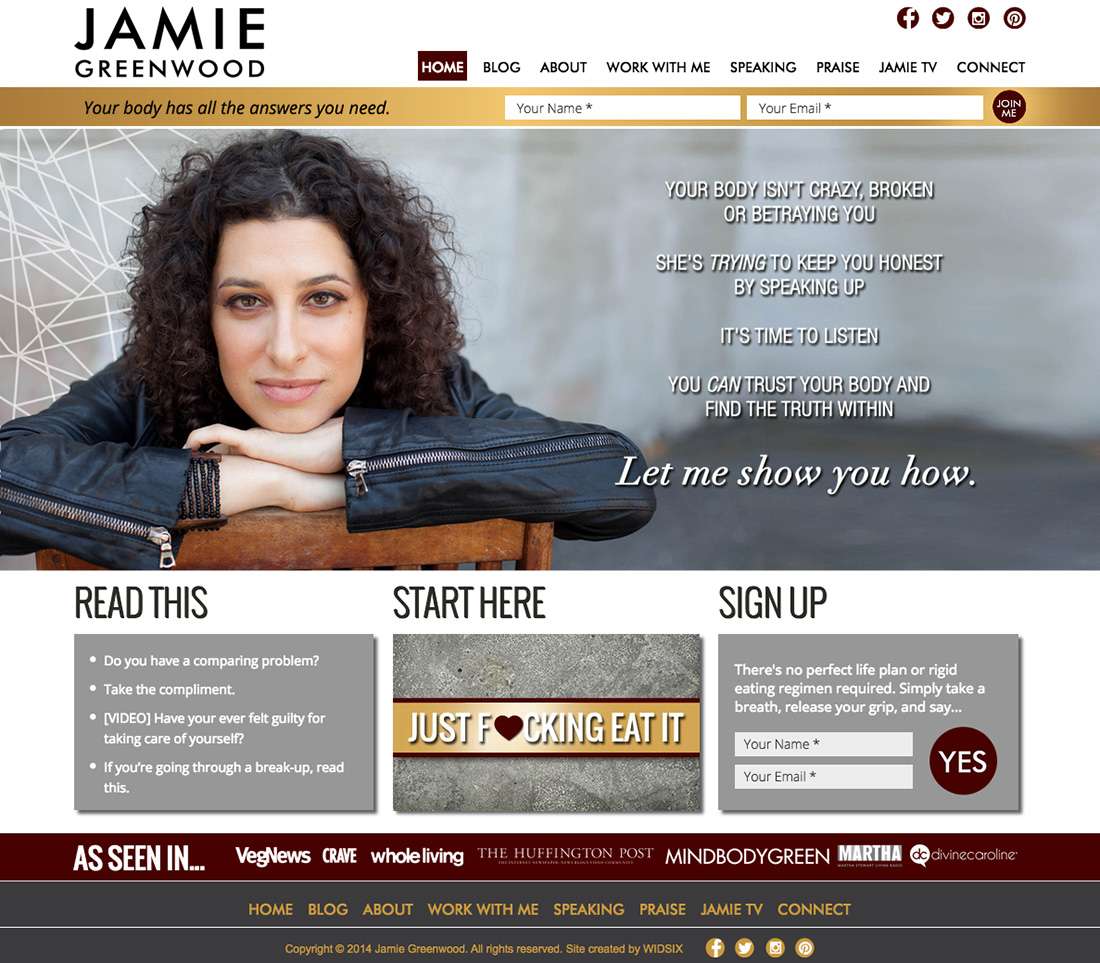 You know how sometimes you just need a guardian angel to plop exactly what you need right in your lap? Well, that's what it was like when I found Becca.
I needed new photos for my website but I didn't want to go with the standard, cheesy, "I'm so happy, look at my great life", head shots. I wanted pictures with edge, with soul with deep heart.
Becca delivered 100%. Not only was she incredibly organized and scouted locations before the shoot, she was my biggest cheerleader the entire day and got shots of me that were exactly what I wanted. The woman is an artist, photographer and "perfect shot" magician all rolled into one.
I feel ruined because after working with Becca there's no other photographer I will ever want to try. She's it for me and will be for you too. Seriously.
Jamie, Jamie Greenwood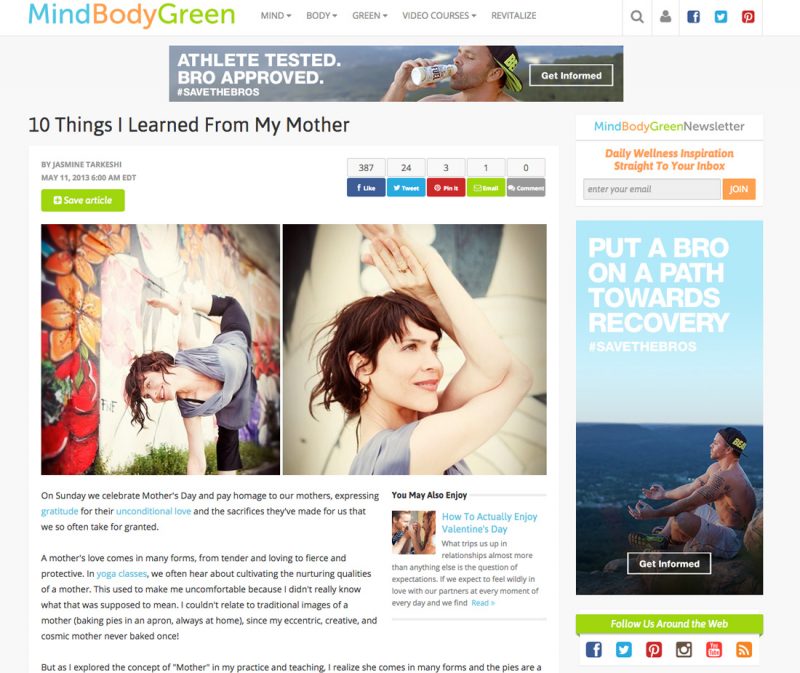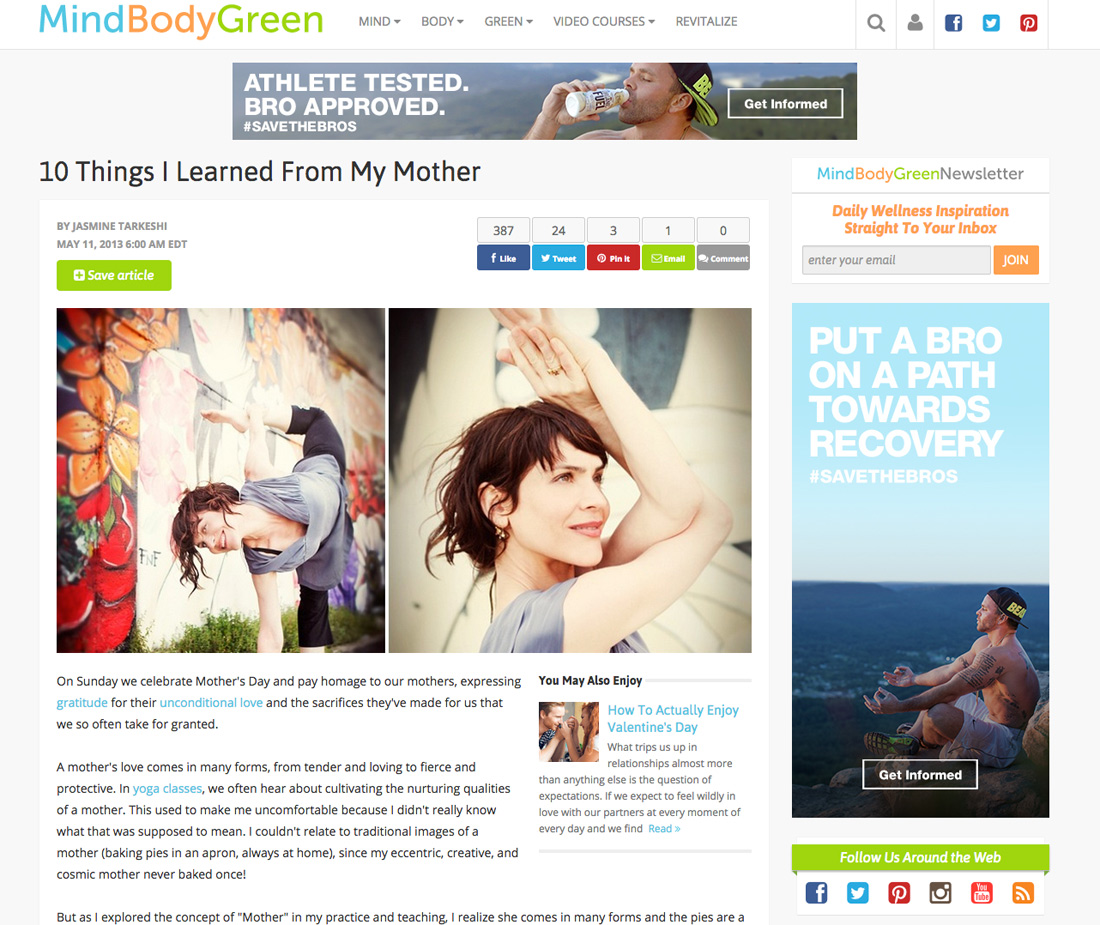 Becca Henry is the most amazing photographer! She has been shooting photos for me and of me and my business and staff for the past 3 years and every time I am blown away …. not only by her incredible skillful eye and talent but by her creativity , her boldness to get down and be risky to capture the most beautiful and unique shots that bring to life that sacred moment that never happens twice through her magical and  whimsical third eye… capturing the body in movement and the intimacy of a face. And above all she is so professional and FUN to work with … her energy and enthusiasm so contagious that it make the sometimes dreaded portrait shot an experience to embrace and celebrate !! Some of my staff are so shy and they quickly relax and enjoy the experience of having their photo taken as creative play and true expression of who they are!  I highly recommend Becca to those who are used to being in front of the camera professionally to get some unique , beautiful and authentic shots and any one who is not to instantly feel comfortable and learn to love their image as seen through her eye. Becca is also brilliant at shooting large public events and group shots where she becomes invisible and captures the most precious moments and will get your photos right away! Namaste!
Jasmine, Laughing Lotus Yoga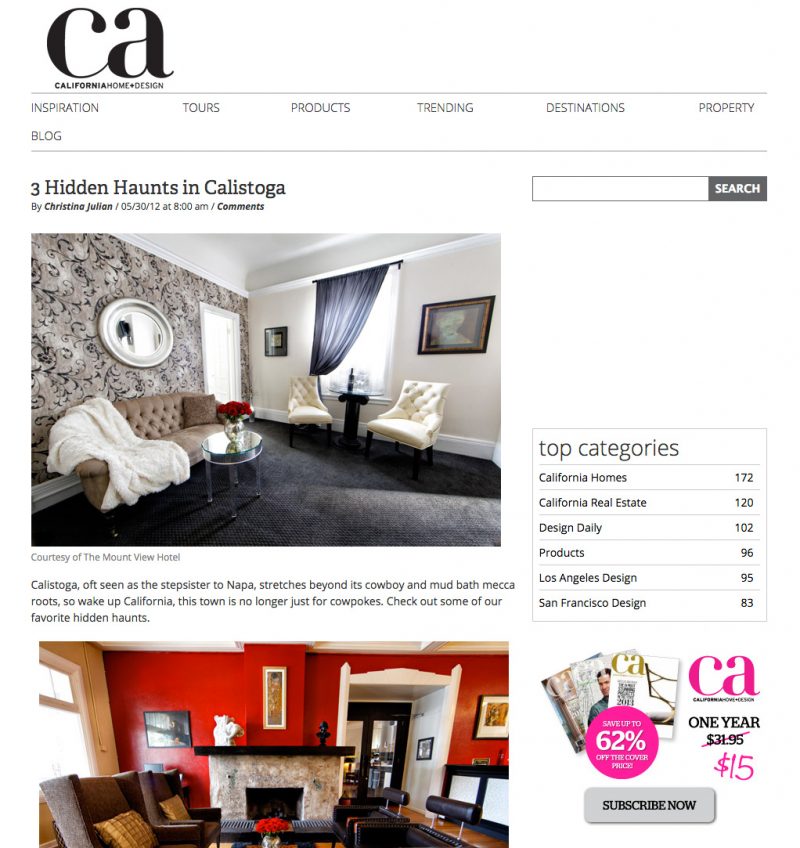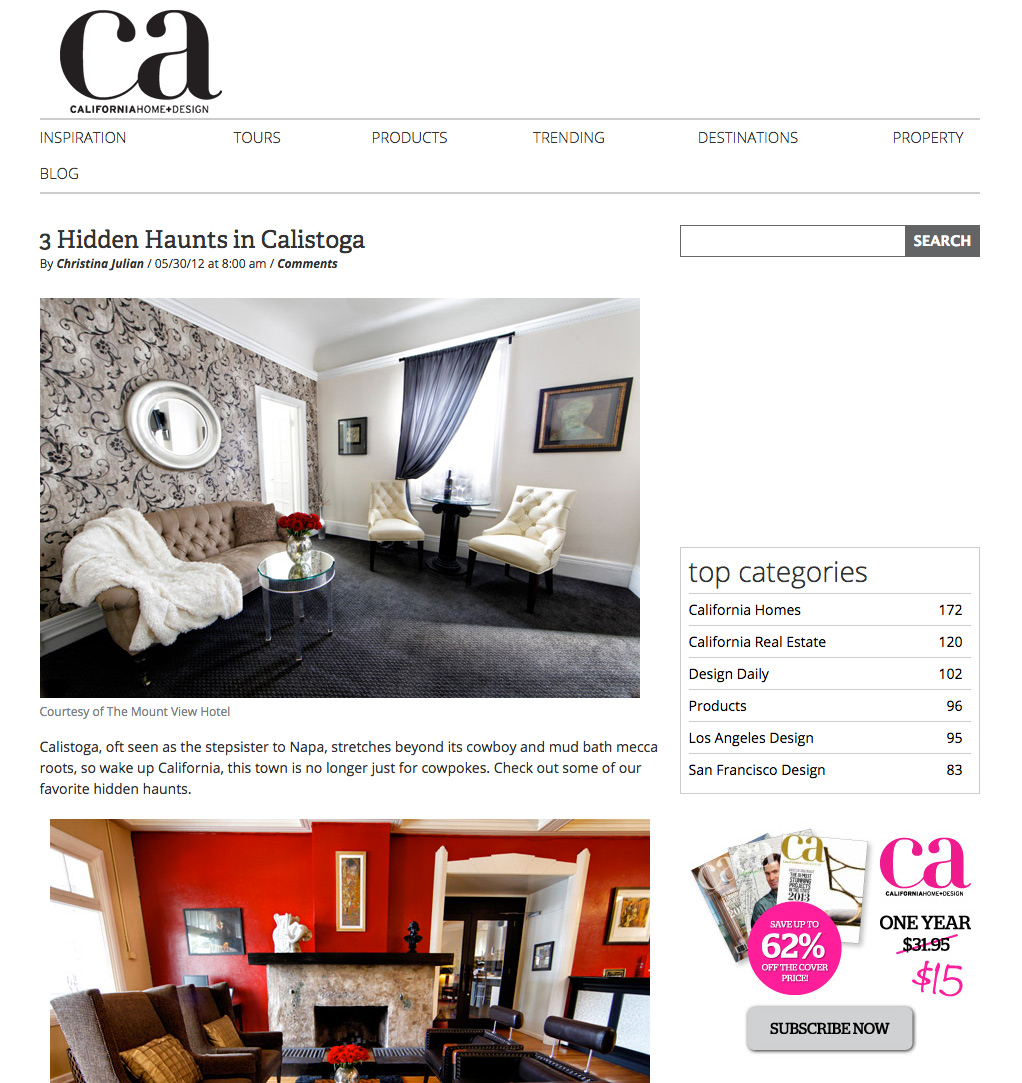 It is my pleasure to share with you the experience we had utilizing Becca Henry for our last Mount View Hotel photo shoot.  She was just the right fit for our project and Becca brings an artistic eye and attention to detail that just comes naturally and shows in exquisite and compelling photography.  As we were working on a new website that highlights photography, Becca Henry Photography was the perfect pairing for us.  Her friendly expertise and advice was much appreciated and the experience overall was fun and exciting.  We are currently working on our new shot list to have Becca Henry back again soon!   I would recommend Becca Henry for any event to capture the moments that will last a lifetime.
Andrea H., Mount View Hotel and Spa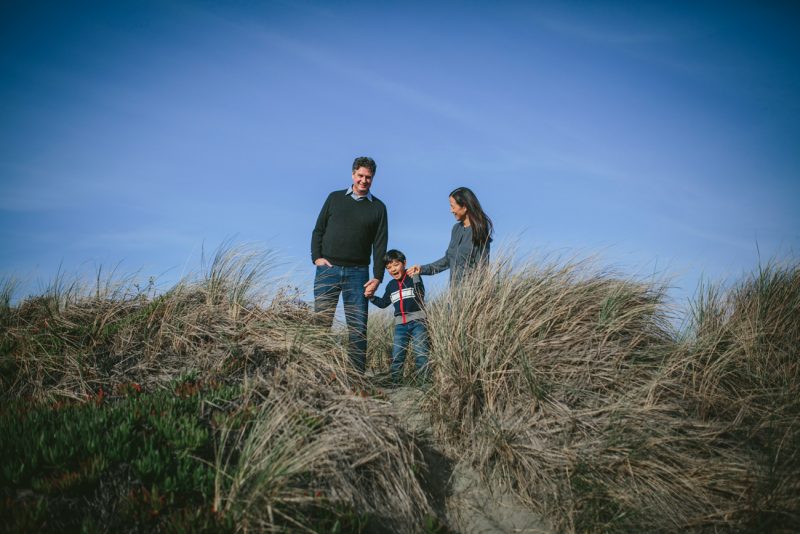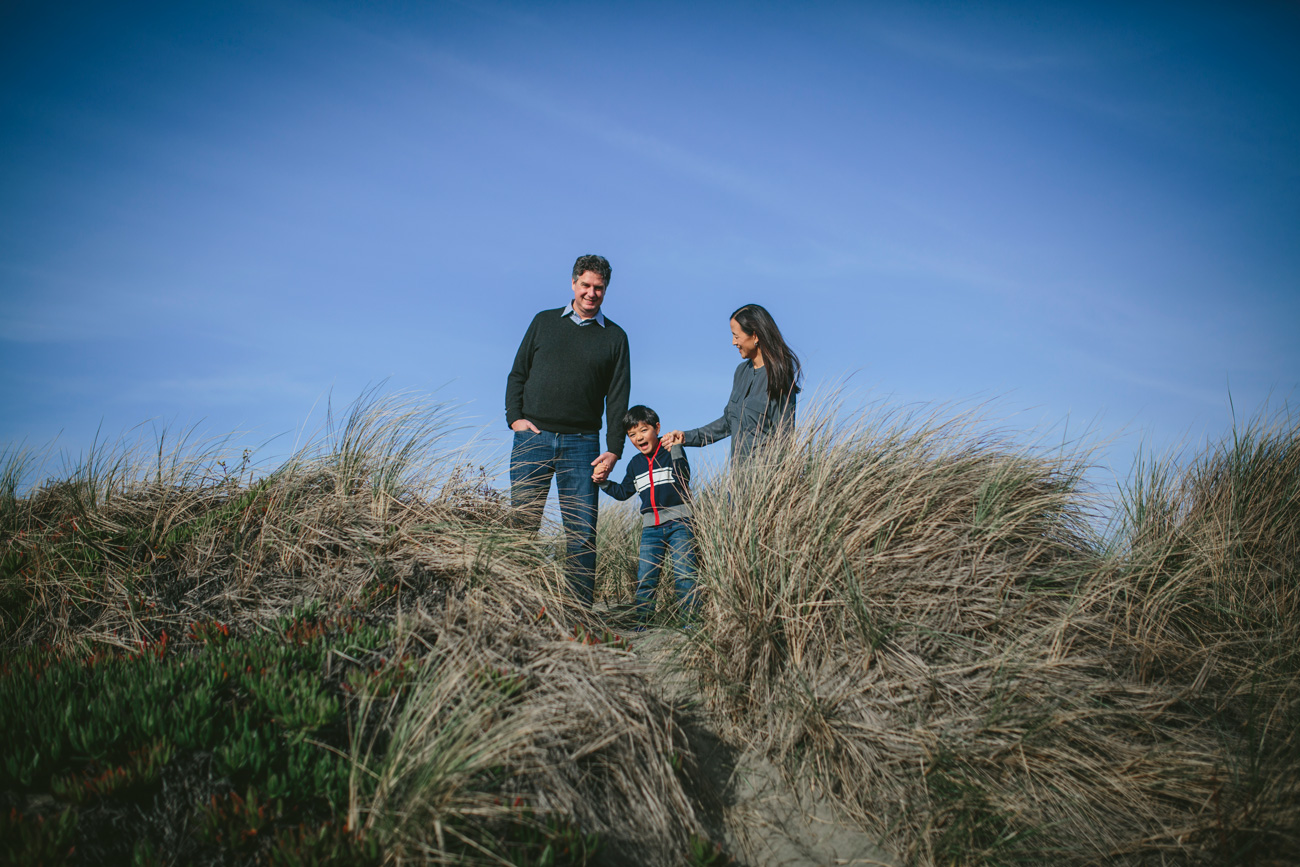 Back in 2009, we trusted our wedding photography to Becca — she did an amazing job capturing the special moments of the day.  We chose Becca for a number of reasons.  She has an engaging style and personality, and was able to navigate through our event capturing family and friends, as well as the scenery and activities that we wouldn't want to forget.  We received so many compliments about her work, and our album is perfect, with many thanks to her creative talents! Since then, we've worked with Becca to also take our family photos.  Our son, not quite two years old, warms up to her quickly and goes into "say cheese" mode.  We feel very lucky to have such a capable photographer to document our adventures.  Becca's work is amazing — and she is fun to work with too!
Kim
Becca is wonderfully talented and a pleasure to work with.  She has a light fun spirit that carries her and anyone else she is photographing. Did I mention she's talented?  Her work shines above many others I've seen and SF has plenty of other available photographers but not like her.  She shot for my clothing line and made everything look amazing.  Who can shoot anywhere like a bathroom or a parking lot and make it look hot?  Becca can.  She's your choice.
Torsten, Mission Thread
Becca is a fantastic storyteller. Her ability to capture and reflect the feeling and direction of a moment is fortified with an excellent, fun, unobtrusive, and professional camera-side manner.  She documented the elaborate logistical setup and final decor of our operation on location at a multi day festival in a challenging work environment. We loved the photos!  Becca was wonderful to work with and really took time to make everything look great.  She is also skilled at post production – we work with alot of creative pros and post is always time consuming and technical – it often makes the work sing. Never underestimate on this critical aspect of quality photography. Becca truly captured what our business is all about and we look forwards to working with her again.
Andy T., Table Nectar
"Becca started taking pictures of me during my first pregnancy in 2002. What I remember most about that first photo session was her easygoing style. She put me at ease as a result, my pictures came out wonderfully. We liked her photographs so much, we asked her to take our first son's portrait. Now she's photographing our second son. We keep using Becca because she has the unique ability to capture our sons' personalities on film. I can't tell you how many compliments her photographs get."
Patricia & Ben
"Becca is an incredible photographer.  I just did a pregnancy shoot with her and the shots turned out amazing!  She put me at ease during the shoot with her warmth and laid back nature.  She was able to capture me in a way that made me feel beautiful and seen. We are really happy with the images and I would recommend Becca to anyone looking for a photographer who is great at capturing who you really are while being professional and easy to work with."
Katie
I have worked with Becca through my performance company Fou Fou HA! http://www.foufouha.com, and am always amazed at how brilliantly Becca can capture our character and tell a Story through her photography. She has a unique talent and is a true artist in every sense. Great to work with, casual and no drama, Becca is  gem and anyone able to work with her is oh so fortunate!
Maya, performer and troupe leader of FouFouHa!
"Becca's photos are amazing. She's photographed my family 3 times. I love the range of emotions that she captures – the playful personality of my 2 year old- to the quiet picture of my newborn. She put together an album for me from the different shoots and it is truly a keepsake I'll cherish."
Jenna
"I felt comfortable, at ease, and I was especially aware of the attention paid to the poses and angles she used. Considering I was nine months pregnant, I was grateful for this level of trust I had in her. The end result is a timeless, ethereal image of one of the most important periods of my life."
Stephanie
I have had the pleasure of working with Becca on a wedding and her finished product  was very edgy yet professional.  She also blew me away with her quick turn around time! As a person, she is super considerate and I felt very comfortable asking her all my 'stupid' questions ?  Love her!
Fleurty
"I swear so many people loved our pictures and complimented you on your work. You are awesome. When Josh and I have kids we'll be calling you .. so we need to keep in touch. Thank you for everything! Thanks"
Lindsay
I have been a fan of Becca's work for several years, and I knew that when I was getting married, I wanted her as my photographer.  I could not have been more pleased with that decision.  Not only is Becca an amazing person to work with, she is a true artist.  She has an uncanny ability to find those beautiful moments in time, and perfectly capture them.  The words I use to describe her work, beautiful, breath taking, stunning, heart warming, etc.  I would recommend her to anyone.
Robert T.
Becca is a talented photographer with a wonderful spirit and kind heart.  She has donated her time to photograph events for the non-profit group, Friends of Dolores Park Playground.  Her photographs really show the spirit of play and diversity that is Dolores Park.
Mary – Friends of Dolores Park
A few years back we were looking for a wedding photographer and Becca was highly recommended to us by a friend. She was booked for our wedding day but I loved her work so we hired her for an engagement session. She spent time with us to decide on styles and locations beforehand. She was fun, professional, and made us feel super comfortable. We absolutely loved the photos!
Fast forward a few years.. my wife and I wanted to do some family photographs with our twin newborn girls. We of course called Becca. Again, the photos were amazing. There were lots of different kinds of looks, with different styles, lighting, and angles–we all looked great. It was hard to choose from so many great photos!
Recently, my wife needed some new head shots for her website, hired her, and again loved the results. She told her it would be a one week turnaround and she got them back the next day!
We keep going back to her because she's a truly gifted photographer and you can tell she really cares about her clients and her work.
We'd recommend her in a heartbeat.
Mark
Becca just did some van photographs for our business.  We are super stoked with the photos.  I would recommend Becca to anyone. Also her fun nature was a serious plus.  Hell yeahs.
Nick –  Lost Campers
Becca is an amazing photographer, she has an eye for just the shot you want, she can make you look like a model even if you don't photograph well and she's a lot fun to work with. I met Becca while she was shooting at a circus show that I was dancing in, she took great pictures of my performance, which I've since used for my promotional material.  I then hired her to do my engagement photo shoot-and the pictures are breathtaking- she not only made me and my fiancee look gorgeous- she was able to capture how we feel about each other.  Everyone who sees these pictures are blown away.  I would have her shoot my wedding but she's already booked. I would highly recommend Becca for any type of photo shoot, she's a true artist.
Samantha, Belly Dancer